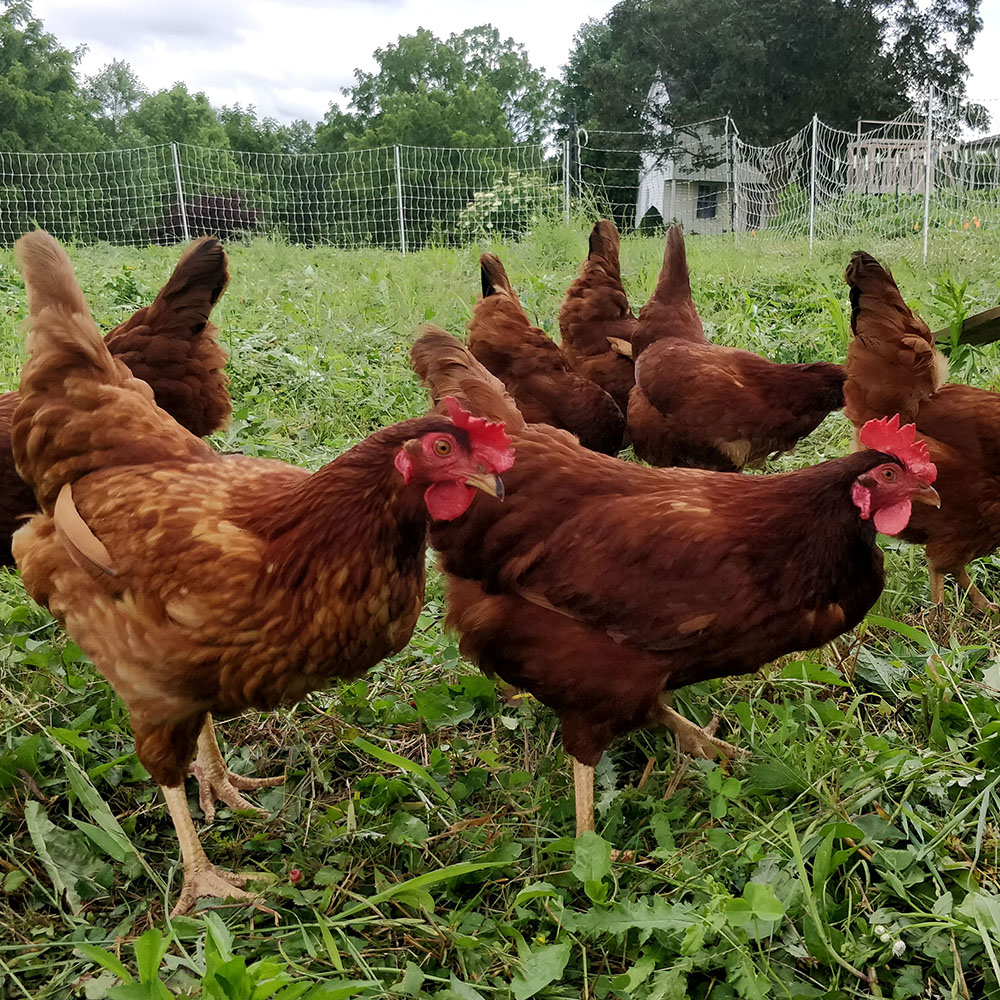 Is there such a thing as a 100% grass-fed chicken?  Hopefully I'm not bursting anyone's bubble, but there is no such thing as a 100% grass-fed chicken.  It's a common misconception among consumers that there are pastured chickens that are not fed grain.  When farmers say their chickens are pastured, the chickens are still fed large amounts of grain in their diet.  Could you produce a chicken or eggs without grains?  Possibly, but first we need to understand what a chicken is designed to eat.
Unlike cows and other grazing animals that are designed to only eat plants, chickens are omnivores.  Chickens can eat plants and animals.  Those 'vegetarian fed' chickens you see at the grocery store are not a good thing.  Those chickens are probably miserable their entire lives.  A chicken should have access to bugs, meat, pasture, seeds and more.  If you know anyone who has chickens, ask them what a chicken doesn't eat.  There are actually very few things that a chicken will not eat.  Vegetable scraps, yup, they love 'em.  Meat trimmings and old soup bones, they'll chase you around for those.  Clover, grass, and weeds?  They eat those as well.  Bugs? They love them.  Mice? They'll fight over them.
So why is it important for a chicken to be on pasture?  When a chicken is on pasture it has access to all kinds of things it doesn't have access to when it's in a cage being fed only grain.  The chicken can select plants, bugs and even occasionally animals to eat that meet it's nutritional needs and stay healthy.  Another reason we should be concerned about purchasing real pastured chicken or eggs is for the better taste and much higher level of nutrition.   It's amazing how much more nutritious pastured eggs can be than factory farmed eggs.  When tested, pastured eggs can have levels of certain nutrients 2 or 3 times higher than conventional eggs.
One last thing. You've probably seen pastured or cage-free eggs & meat in your supermarket.  Unfortunately, this is usually a marketing scam.  Often the chickens have 'access' to pasture, but in reality get almost none of their diet from the pasture.  The result?  Eggs and meat that is nearly identical in nutrition to conventionally raised.  Not good.  Even 'Organic' chicken and eggs can have nearly identical nutrient levels to conventional.  It's not a bad thing for products to be organic since the toxin load will be lower.  However, if the product is raised in the same way, you aren't necessarily getting any better nutrition.
So what's the solution?  You need to know how your eggs and meat are raised.  There is no surefire way to tell how an animal was raised by just reading a label.  Go find a farmer and ask him to show you how his animals are raised.  This is the best solution for finding the highest quality food.
I hope this article has been helpful.  If you have any questions or comments, feel free to leave them below?